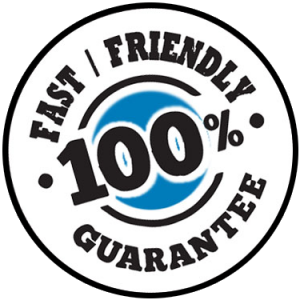 If you're unfortunate enough to discover damage to your roof, you may not know where to turn. It can be difficult to know how to proceed when it comes to making an insurance claim. Who do you need to get in contact with? What are your first steps?
Remember, certain insurance companies have policies with time restrictions, which can kick in if you wait too long after damage has occurred before contacting them. If you suspect that there is damage after a serious storm get in touch with Full Scale Roofing right away, to get your free initial inspection.
Our experience in these situations helps us know exactly what to do and where to look in order to uncover and document any damage. We will be able to tell you how extensive the problem is and will take photographs of the areas in question to show you. We can provide you with a full explanation of what needs to be fixed, together with a repair estimate. It is possible that the damage will not be enough to make it worth your while filing an insurance claim. In this case a plan will be drawn up to give you alternatives. However, if the insurance company needs to be involved, then they in turn will need to see evidence of the damage, the relevant measurements, the date and time that you suspect it occurred and the reason behind it all.
In an ideal world you will already have some pictures of your roof "as it should be," which you may well have taken after previous maintenance. Always make sure that the date stamp on your camera is activated when you take such pictures. Photographs like this will give you evidence and proof to justify your claim that the subsequent damages were as a direct result of that weather event.
Have a good look at your current insurance policy to determine the extent of your coverage and to see whether there are any limitations in place regarding timely reporting of the damage and what types of damage may not be covered. Sometimes, insurance companies will only cover a portion of the repair cost if your roof is over a certain age. This could be calculated based on the depreciation value.
The next step will be an inspection by an insurance adjuster, who will help to determine the amount that the insurance company will pay out.
When you deal with Full Scale Roofing you should know that we have extensive experience with working in roof insurance claim situations. We will work with you from day one to help you make sure that the details submitted to the insurance company are as accurate as possible.
Once you receive the funds from the insurance company to pay for the damage, we will get to work right away and in accordance with your schedule so that repairs are carried out promptly. You can be certain that we will be confident, supportive, forthright and attentive when it comes to every single detail during this claim procedure.
At Full Scale Roofing, we pride ourselves on our drive, our dependability and our integrity and will stand right beside you during these stressful times.
Before you go any further pick up the phone and call the insurance specialists at Full Scale Roofing, who will come out and have a look at your roof. Bear in mind that even though the roof may look all right from the outside there could be some serious damage inside, which only an experienced roofing specialist will be able to determine.
Should your roof need any type of repair following a storm or just due to wear and tear over time then we can provide you with an estimate of what needs to be done free of charge. We will then work with you to prepare a plan of action and to provide you with the most appropriate options in relation to your roof's condition.
" These guys are OUTSTANDING! I highly recommend them. Our roof looks great, thank you! "
" Very prompt service,very responsive owner. "
" Fabulous service and very friendly. We will definitely be using Mike for future roofing needs! "
" Great prices, Mike is honest and fair, doesn't try to rip people off. "
" This company is a A+. They came over to give an estimate and repaired a leaky roof for very very inexpensive price. They are professional, caring, and reasonable. I will call them again! "
" These guys are OUTSTANDING! I highly recommend them. Our roof looks great, thank you! "
" Very prompt service,very responsive owner. "
If you are looking to schedule an appointment for a free inspection or estimate please click here to schedule your appointment using our online scheduling system.
Otherwise, for general information or to contact us concerning other matters, please fill out and submit this form.  We will get in touch with you as soon as possible.